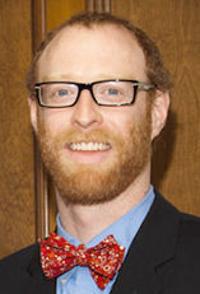 #inform-video-player-1 .inform-embed { margin-top: 10px; margin-bottom: 20px; }
#inform-video-player-2 .inform-embed { margin-top: 10px; margin-bottom: 20px; }
Local attorney Clay Wilkey, of Owensboro's Wilkey & Wilson law firm, will host a virtual seminar about family law in conjunction with the Daviess County Public Library at 6 p.m. Thursday on the library's Facebook page.
Wilkey said Monday that he will go over a variety of family law topics, including child custody, domestic violence, divorce and child support, and dependency, neglect and abuse.
Library employee Lisa Maiden said Monday that local residents routinely come to the library requesting legal assistance from staff members. Since they do not have law degrees, they are not able to provide advice on legal matters.
"That was one of those driving factors that led me to get in touch with Clay to see if he would be interested because I saw the need on a day-to-day basis," she said.
Wilkey said the first piece of advice he will give during Thursday's seminar will be the same advice he started the previous one with — do whatever is necessary to get a lawyer.
"Call in favors to friends and family members, make applications to legal aid," he said. "I understand that these folks are trying to do this without a lawyer, but you are really putting yourself behind the 8-ball going into an issue that is as important as a custody battle without a lawyer on your side."
Wilkey said in addition to retaining the services of an attorney, his best advice for parents or guardians involved in a family law matter is just to be a good person.
"(Clients) will call me and say 'Mom did not bring the kid over for visitation last week when she was supposed to. I am going to go get the kid and I am bringing the cops with me'," he said. "Look man, if you are a child and you are in that situation and your dad comes to your mom's house with the police, what kind of impression is that going to set?"
Wilkey said he almost universally does not speak to the child involved in a family law matter unless he is that child's lawyer, but he still is asked to explain things to children about the situation with their parents.
"I am not going to do that and I don't want you talking to the kids about court or your disagreements with the other parent because it may feel good at the moment, but nothing good is going to come of that in the long run and you are setting that kid up to feel as if they are in the middle of something," he said. "They are, but they do not need to feel that pressure."
Maiden said the legal seminar series was planned in February when there were still a lot of unknowns about what the upcoming year would look like in regards to the COVID-19 pandemic, which is why they will be done virtually and streamed on the DCPL Facebook account.
"Hopefully moving forward, after August, I can get with (Wilkey) and we can start doing some in-person sessions where he presents to a crowd and I can still stream it to Facebook to make it more easily accessible as well," she said.
For more information about upcoming DCPL events and programming, visit www.dcplibrary.org.
#inform-video-player-3 .inform-embed { margin-top: 10px; margin-bottom: 20px; }